[From The Desk Of: Shane/Rayo2, Director of Propaganda]
the latest news & releases from the free republic
[PAZ01 – SECRET SPACE PROGRAM | PAZ02 – PAZNIA GENERAL FUND | PAZ03 – DEPARTMENT OF TRANSPORTATION]
---
PAZ01 [FILED 20210204] – ESTABLISHMENT OF THE P.A.Z.NIA SECRET SPACE PROGRAM
We are pleased to announce the creation of the P.A.Z.NIA Secret Space Program. Please click the images above to view in a new window.
If you would like to support the creation of the P.A.Z.NIA S.S.P, all proceeds from the shirt below will be donated! Make sure to check out Ora's other products while you're there!
~~~
PAZ02 [FILED 20210207] – ESTABLISHMENT OF THE P.A.Z.NIA GENERAL BITCOIN FUND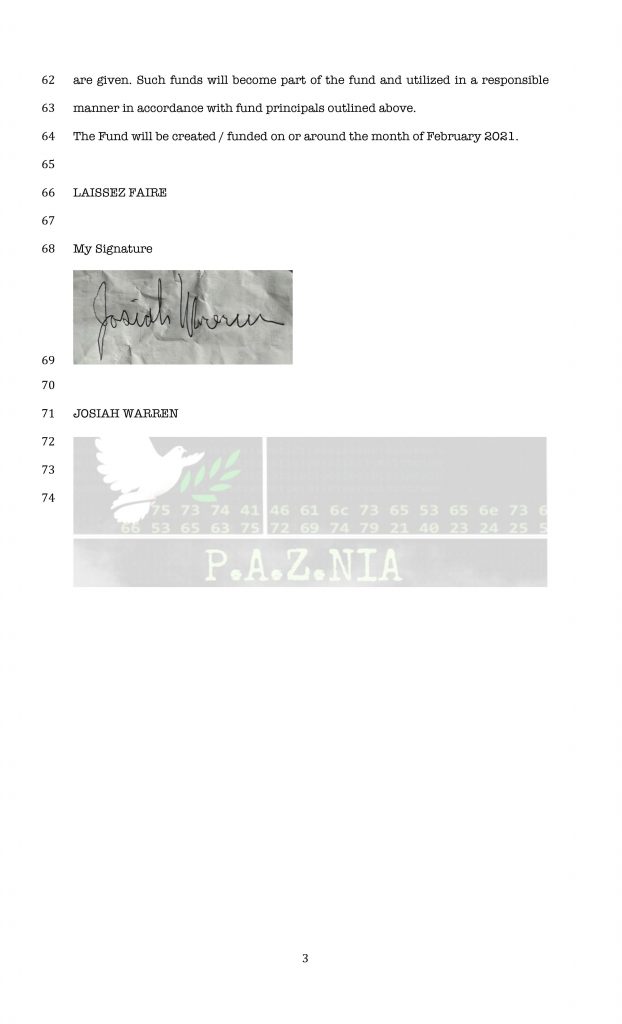 Voluntarily contribute to the P.A.Z.NIA General Fund!
Thanks to Josiah Warren for the great idea and for taking the initiative in setting this up. Email him ([email protected]) with questions or information.
bc1q0s8us88vl68hj802mxh29jhkn447ppkuup0ulc
~~~
PAZ03 [FILED 20210420] – ESTABLISHMENT OF THE P.A.Z.NIA DEPARTMENT OF TRANSPORTATION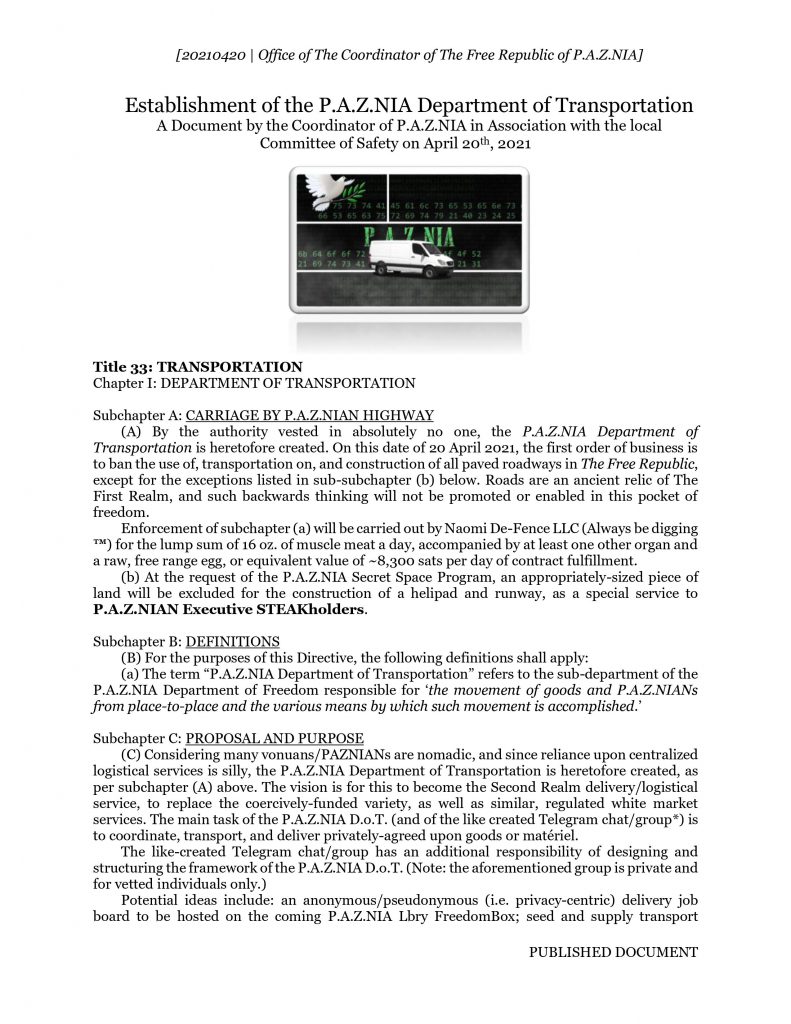 ---
VOLUNTARILY FUND THE FREE REPUBLIC!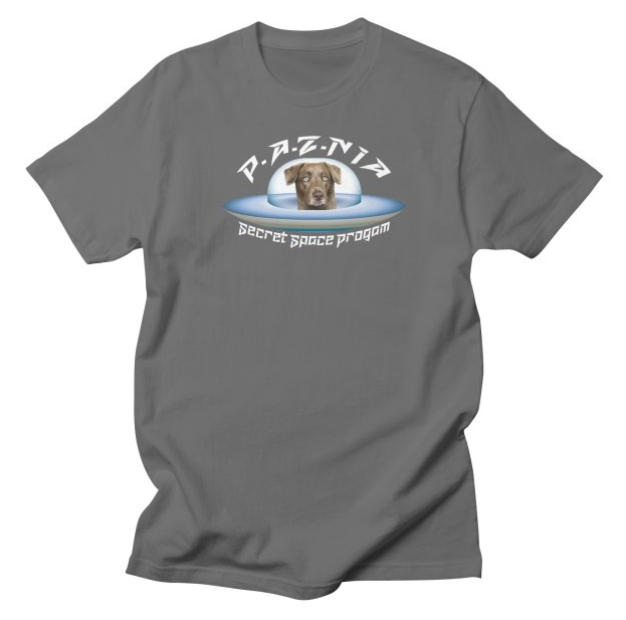 ALTERNATIVELY, BECOME A STEAKHOLDER OF THE FREE REPUBLIC!
BENEFITS OF BECOMING A PAZNIAN:
[$1+ DONATION] STEAKholder "ID" card
[$50+ DONATION] Silver commemorative coin and Digital Self-Liberation Bundle from Liberty Under Attack Publications (12+ digital books!)
[$100+ DONATION] P.A.Z.NIA Flag
[$250+ DONATION] All of the above + an official P.A.Z.NIA passport*
[ANY AMOUNT] You're in at the ground floor and can begin to build your reputation in the Second Realm/agora
[ANY AMOUNT] P.A.Z.NIA forum account (coming soon)
Discounts to other businesses/hustles in the agora
A potential future network of Second Realms/agoras
As P.A.Z.NIA is built, opportunities could include:

Another option for a bug-out location, with livestock awaiting you at the property
Be a part of the coming unique "intentional community"; help bring the homestead up to self-sufficiency

Big donators who help to fund projects (The Freedom Observatory, The P.A.Z.NIA Lbry, The Milton William Cooper Fallen Allies Memorial) will have the option to name the area and be etched in permanence with a plaque
In both digital and physical areas, privacy and the principles of self-ownership/non-aggression respected by all
With special offers from Liberty Under Attack Publications
---
This website is owned and operated by The Free Republic of P.A.Z.NIA. Taxation is theft, and the servile society is slavery.